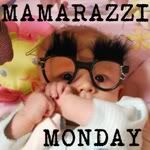 How did you spend the 4th of July? We spent it in the ER Friday and Sunday. Friday, Aaron took a header down about 5 stairs and used his face as a landing pad. Sunday Zach was presenting as possible appendicitis. After 6 hours of tests, it was determined it's just a really nasty virus at this point, and I need to watch him the next couple days. Instructions were to come back if he gets worse or see our regular doc if he's not better in a couple days.

Aaron was running around Zach's ER room about 10pm trying to stay awake after I said, "No running," ran into the linen basket and gave himself this black eye.
This is how we spent July 4, 2010. If you want to participate in Mamarazzi Mondays, hop on over to Household 6 Diva every Monday.