It's that time of the week again (and I participated this week). Please excuse me if they're not very funny. I'm trying, I'm trying. School ended this week. It's very bittersweet. On one hand, I couldn't be happier to be done. After a year of IEP violations, mediocre teachers (and that's being nice), getting more of a glimpse at what NCLB has done to our school system, and filing due process paper work, I'm done. And that's just with the elementary school! The boys are done with our district, and are officially enrolled in cyber school for fall. I'm excited for them, especially after seeing which classes we will be getting for our older son.
OK, OK, so you're not here to listen to me blab today. You're here for the eye candy. If you want to participate, click the button and go visit this week's link up. Sunday doesn't bite – much.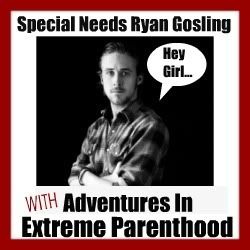 In case you missed it yesterday, I wrote an open letter to the Senate Armed Services Committee.